THE DON MEYER AWARD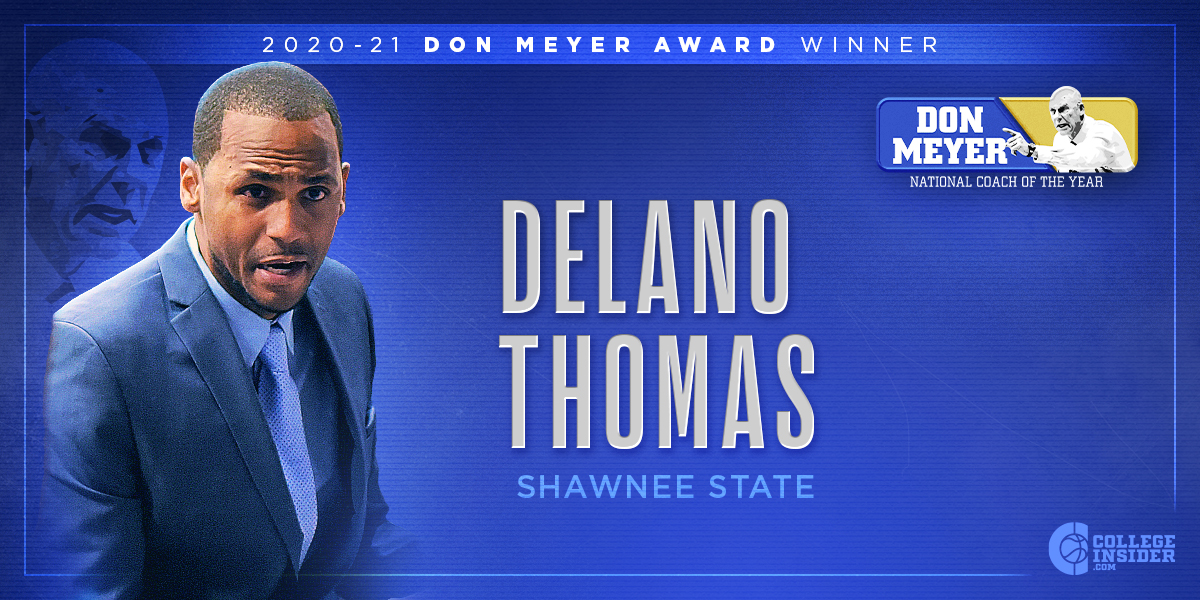 Shawnee State's Delano Thomas is recipient of the 2021 Don Meyer award, which is presented annually to the top NAIA coach in America.
March 31, 2021

THE 2021 AWARD

BOSTON, MA -- Shawnee State head coach Delano Thomas is the recipient of the 2021 Don Meyer award.

Thomas led Shawnee State to the program's first-ever NAIA title, defeating Lewis & Clark in the championship. The Bears finished the season with 27 straight wins and overall record of 31-2.

"What a job turned in by Delano Thomas," said Joe Dwyer President of CollegeInsider.com. "He returned to the place where he played and has taken the program to new heights. Coach Thomas is a rising star in the profession."

Having developed Shawnee State into a top-flight contender in less than four full seasons, DeLano Thomas took home Mid-South Conference Coach of the Year honors behind an incredible turnaround that has seen Shawnee State go 44-13 over its last 57 games.

The Don Meyer Award, which is presented annually to the top NAIA basketball coach, is named in honor of the one of the sport's winningest coaches.

In 38 seasons at Hamline, Lipscomb and Northern State, he compiled an astounding 923-324 record. He led Lipscomb to the NAIA national championship in 1986 and coached the two highest-scoring players in the history of college basketball, John Pierce and Philip Hutcheson. Also, his 1989-90 team at Lipscomb won a record 41 games and was the highest scoring team in college history.
In 2010, he received the John Bunn Award at the Basketball Hall of Fame.

Meyer retired from coaching in February 2010. Coach Meyer lost his long battle with cancer on May 18, 2014, at the age of 69.